This has to be the most tiring leg ever.

I boarded the bus at 2000hrs, only to reach the destination at like 0445hrs. It was freezing cold at the bus terminal and I was waiting with a few other people by the roadside for a taxi. Suddenly a taxi appeared and the guy in front of me hopped into the taxi, and without hesitation I immediately ran towards the taxi and decided to jump in as well.

As I have mentioned before, the taxi drivers in Morocco can pick up a lot of passengers along the way so long there is space for people. So I just showed the taxi driver the address of the location I'm heading to, he thought for a while, and then nodded his head. The lucky thing will be always to alight ahead of other people in the taxi, so you won't have to pay the most cause you never know if the other passengers are really along the way or the driver did actually make a detour to drop all the passengers.



Hmm don't know why but this medina looks creepy in the middle of the night...

The driver dropped me outside a medina, and I was surprised at this time there were actually people in the streets who came up to me asking me if I needed a hotel to stay. I ignored them and kept walking, and they kept following. And for a while, I got really scared, no matter how fast I walked and how many turns I made, they were able to find me. Finally, I managed to find the place I was looking for and I stopped to ring the bell.

I guessed I did not actually tell the people in the riad what time I was arriving and hence I suppose they were all asleep so it took quite some time before a lady opened the door. I could actually see the two guys following me quite happy when I kept buzzing the doorbell with no response. They kept asking me to follow them to their place, but I just acted deaf.

Checked-in!

Oh I'm so glad, since I am going to stay for 2 nights, first thing I did was to dig out all the clothes I wore during the family stay and wash them! After washing, I had a good long hot shower, had a short chat on the phone waiting for my hair to dry before taking a short nap.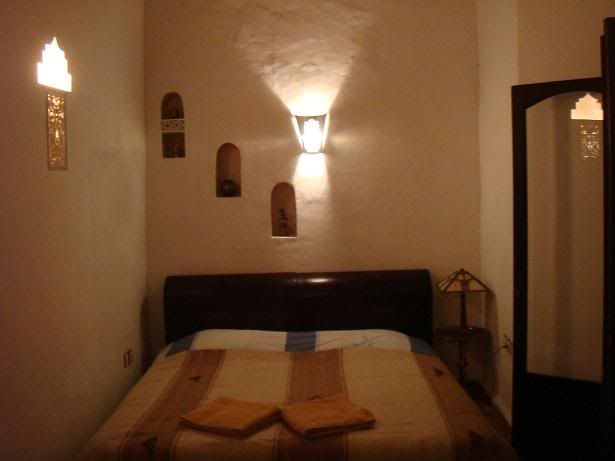 Wow this bed is pretty tempting..... Especially after the family stay.

The second shock came!

I only napped about thirty minutes, as I only planned to cover Meknes in a day, so I had to start my day very early. As I was about to leave the riad, the lady stopped me. My booking was actually meant for Christmas day and the day after! How Sotong of me! I remembered then I had some difficulty confirming the dates for the family stay and finally when it was confirmed I didn't change the dates for the hotels after. Initially I was still trying to talk sense to her saying I was right she made a mistake on the dates, but then I only realised my STUPIDITY after digging out for my printed reservation confirmation.

I asked her if I could have the room or any other rooms available, but they are all fully booked. Nevertheless, the lady told me she would be able to help me find a place for me to stay and told me to go ahead with my sightseeing first. I definitely have to recommend this place to you guys, though the price might be a little steep (I think maybe it's because of the Christmas and New Year peak season), but what touched me was that when I came back from my sightseeing:

- They have already packed my bag for me,
- The wet clothes that I have washed (4 days load) they have dried, ironed and folded them nicely for me,
- Contacted the other riad's lady boss to come to the riad to pick me up in case I can't find the way.

A simple riad but outstanding services. I have to understand why it's not easy to get an available room at such an abrupt request (and for all other people who are interested as well) because they only have four suites in the entire riad. So people who are keen to stay here please ensure advance reservations are made and don't be like me to mess up the dates! Well I had to pay for a night's stay, even though I only stayed there for a few hours. I have to admit I thought it was unfair for me to pay so much, but I had to come to understand too that for not staying in their room for the two nights I booked, they made a loss for the two nights of income as well. Oh well.

Riad Felloussia, Meknes

Have a look at the pictures of the four different suites they have in the riad, and each night is 80-100 Euros depending on low/high seasons.

Ok back to the main itinerary. It's not going to be easy to cover this entry cause I have tonnes of photos for this day trip as I have covered 3 places within Meknes. I actually wanted to split this into two entries but I thought it would be a bit draggy but it doesn't mean these places are not interesting. I will just provide the generic information and can just drop a comment if anyone requires more information in any of the places. Be a little patient for loading as it will contain a little more pictures than other entries.

First thing to see in Meknes, the signature place that differentiate it from other cities in Morocco:



Bab el-Mansour.

As you can see, this is part of the Imperial City in Meknes. You can see the size of this gate in comparison to the person. This is the grandest gateway of all imperial Moroccan gateways. It has been well preserved with the lavish zellij and inscriptions across the top, which was completed by Moulay Ismail's son, Moulay Abdallah in 1732. There are a few babs along the stretch of walls though, but Bab el-Mansour is the biggest and grandest. You cannot walk though this Bab itself, but you can walk through several others. Some of the Babs do not lead to the other side but are used to host exhibitions.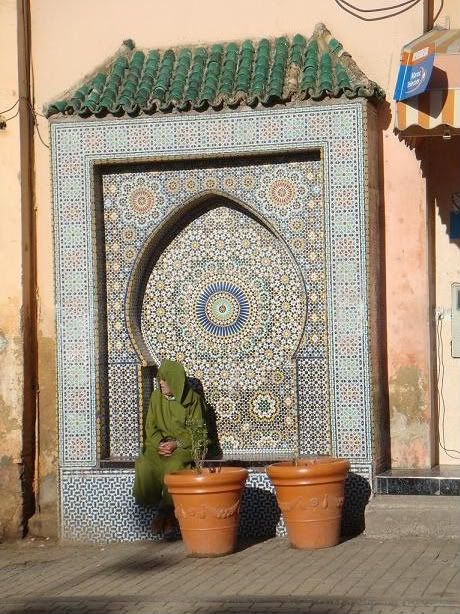 Classic Lonely Planet picture.

Opposite the Bab el-Mansour is the medina. I shall talk about the medina later as it's pretty empty and quiet in the morning, but just so happened this old man was sitting on front of this tiled structure at the corner of the medina and I just snapped it. It's pretty classic as it appeared so similar to one of the coloured pictures inside Lonely planet, just without the flower pots.

Meknes is actually a very small city, hence a lot of the attractions are pretty near to one another, with also ample time to cover other areas as well. So being the greedy me, I covered 3 places in a day.

First, to the Medersa Bou Inania.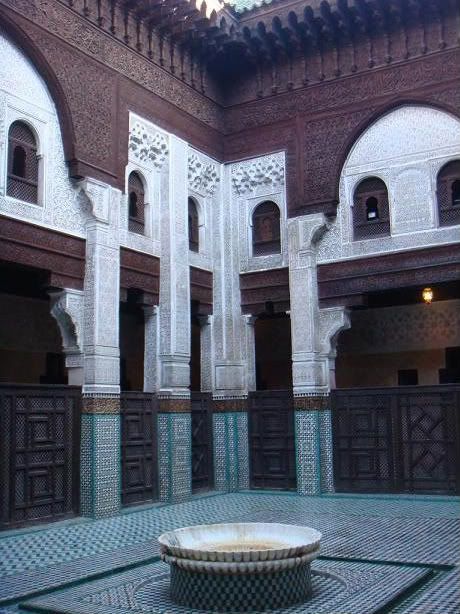 I just love this place. Entrance 10 Dirhams.

As I have mentioned before, a medersa is a religious school where the young students and teachers would stay in. I'm quite impressed this medersa is so well maintained and still so exquisite in the interior design. Completed in 1358 by Bou Inan, this is how the medersa got its name. Pretty lavish I must say.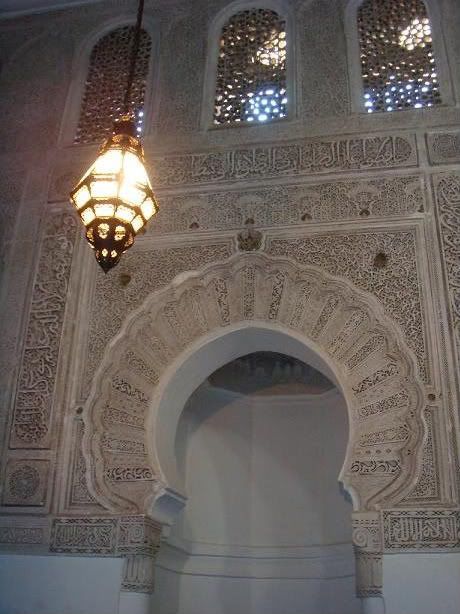 See how intricate it is, the stucco midriff.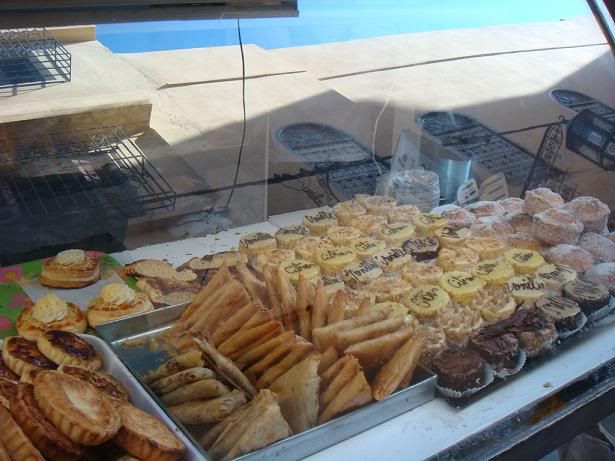 Sweet tooth acting up, need to find something to curb...

On the other end of Meknes, crossing into one of the doors of the Imperial walls, you will reach Dar El-Kbir. There are some interesting places to visit. The next place should be the highlight of Meknes.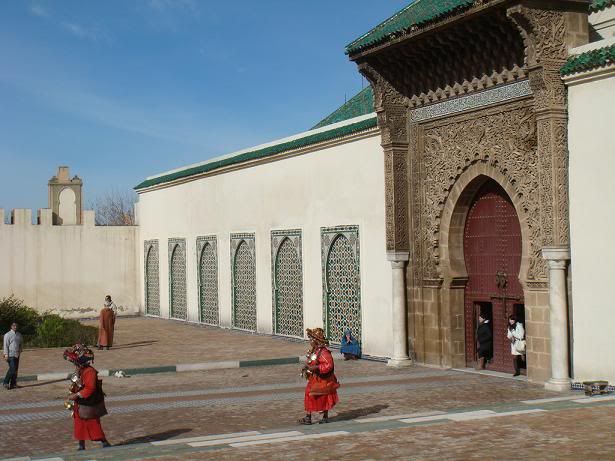 Mausoleum of Moulay Ismail.

Moulay Ismail is one of the Morocco's greatest rulers in history. He was the Sultan of Meknes in the 17th century. This is one of the rare mausoleum in Morocco which non-Muslims are allowed to enter. Ok now who are those two men in red standing outside the mausoleum?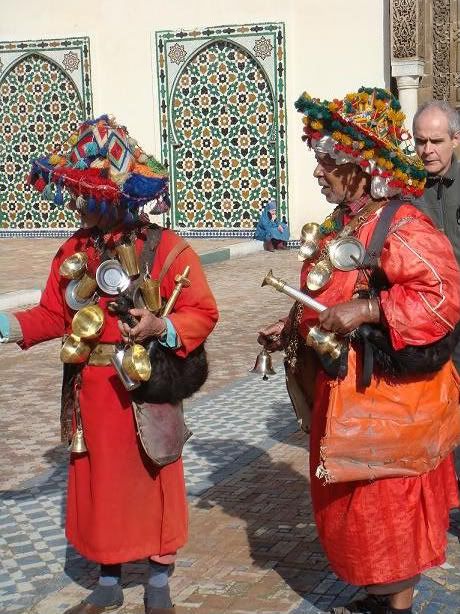 Closeup. Carrying a lot of things isn't it?

Well, these are folks trying to earn a living. They are actually dressed up as the people in the ancient times, and are known as the watermen. They are actually carrying a waterbag and as you can see hanging around them are cups. They are known to be people who actually tried to sell water to people around the desert areas.

Back to the mausoleum. The people there don't like to call it a mausoleum, they prefer to call it the resting place instead. Entrance to this place is free, and you have to walk through a series of courtyards before you can see the tomb. Once you see the tomb, you will see that this hall showcases one of the best Moroccan craftsmanship.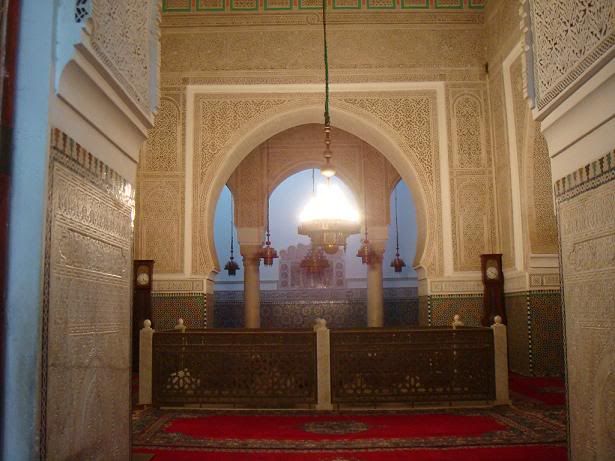 This is what I meant. The fenced up area is the tomb.

As for non-Muslims, this is the max you can reach. You won't be allowed to step into the carpet area so you can just take pictures from a distance.

The whole Imperial Wall is really very long. After visiting the mausoleum, I saw the Royal Palace on the map and decided to visit the palace. I followed the directions on the map, which was exactly along the Imperial wall. As I walked, I was trying to find a door or entrance of sort to get into the Royal Palace but there didn't seem to be any, until...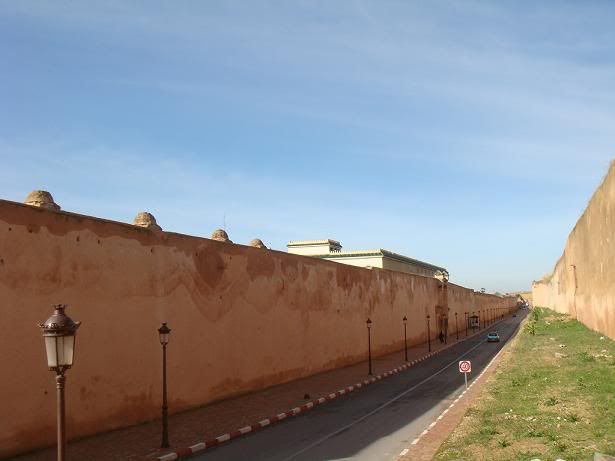 Can you see the Royal Palace now?

It's out of bounds to the public. I met a soldier outside a gate and he said no entry. Apparently it is still in use by the Royal family and so I could only climb onto the small ledge on the other side of the road to catch a glimpse of the palace.

I checked out the biggest hotel in Meknes, Palais Didi, which was also recommended by Lonely Planet as one of the best locations for a meal. It has a very nice marble-tiled courtyard and the whole place is laid out with antique furniture, in the rooms and outdoors. There was this nice waiter who showed me around the place and we had a little conversation at the roof terrace. There is a restaurant at the roof terrace which I initially thought of having lunch there but was a tad overpriced for me (when travelling on a budget).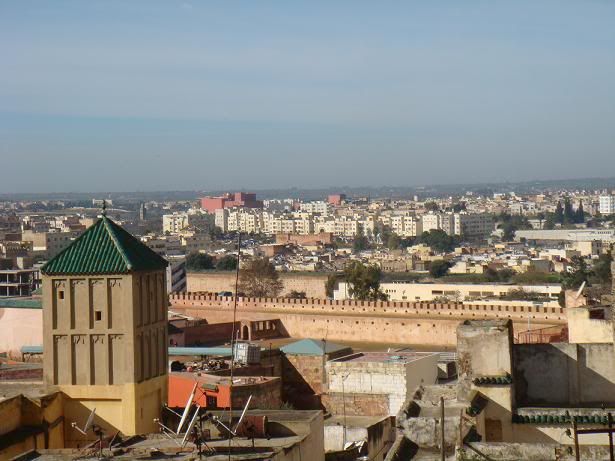 I think the main reason for the recommendation of the restaurant and the overpriced food is because they have one of the best views of the whole of Meknes.

Not to worry but you can actually visit this hotel without having a meal or staying there, the manager and the staff of the hotel are pretty friendly to welcome anyone in.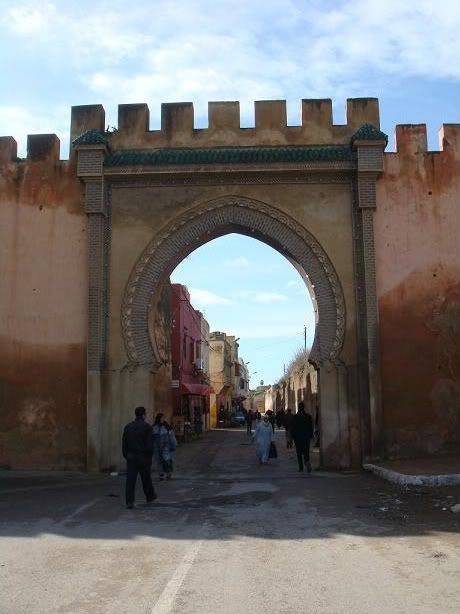 And so I passed by the Old Mellah and took a short walk inside before I headed out of Meknes.

So I walked back to Bab el-Mansour to take a taxi. In Morocco, and I think for many other countries likewise, you have taxis which are only meant for within the city and you have taxis for taking across different cities. You cannot take a taxi within the city to bring you out of the city, and hence not knowing that initially, I told the taxi driver my destination and he had to do some explanation to me for a while before I understood what he meant. He drove me to the outskirt of Meknes where there was another intercity taxi stand with many taxis waiting (They call these kind of intercity taxis the Grand Taxis), and as soon as I alighted from the taxi, many drivers came flocking to me. I was then given the option of either taking a taxi to drive me there or to wait for other passengers to share the cost of the taxi. This honest driver told me it's cheaper to wait as the cost will be divided by 4-5 passengers and it won't take long to find passengers. True enough, we left Meknes within 10 minutes.

Destination 2, Moulay Idriss.
(About 30 kilometres away, 20 minutes ride on the grand taxi. 10-12 Dirhams shared and 50 Dirhams for personal hire.)

I do have to agree with the description from the book that this place is really touted as the whitewashed town. It has been known that Moulay Idriss is another important pilgrimage sites for the Muslims other than Mecca. Moulay Idriss is actually the great-grandson of the Prophet Mohammed, and the founder of Morocco's first real dynasty, thus is recognised as Morocco's most revered saint.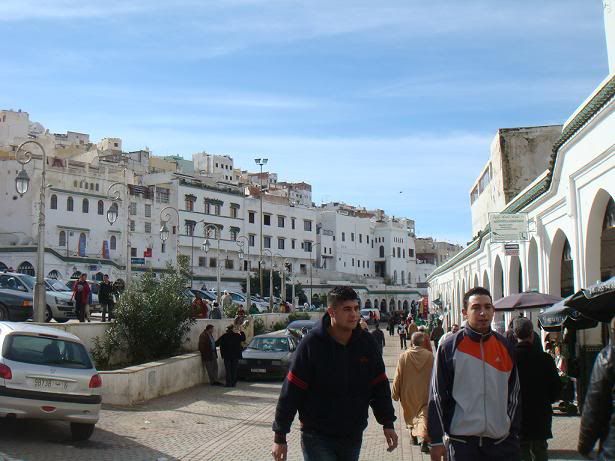 The busiest part of Moulay Idriss. Walk uphill from where the grand taxis arrive and here is the wide square of Place Mohammed VI.

There have been many tales about Moulay Idriss. It has been said that non-Muslims tourists were discouraged from visiting this place, then it opened up but no staying overnight in the town. Now there are quite a number of guesthouses in this town catering to visitors. It's a charming little town which have attracted lots of visitors to come see what Moulay Idriss is all about. It has also been said that five visits to Moulay is equivalent to one haj to Mecca.

I must say though small, Moulay Idriss is not easy to navigate. I sort of ended up lost in the maze of small streets again, this time a boy in his late teens who can speak pretty decent english approached me and wanted to bring me around for a small little sum. We did agree on a small sum initially but at the end of the tour he actually asked for more. And I gave quite willingly.

The main point of interest, Mausoleum of Moulay Idriss, the object of veneration in Morocco. This is also the place where Morocco's annual greatest moussem is held every August/September.

You will walk along a street in the square leading to the mausoleum, surrounded by a lot of shops selling carpets, souvenirs and religious goods. Once at the entrance of the mausoleum, a few steps ahead you see a barrier where beyond that non-Muslims cannot pass.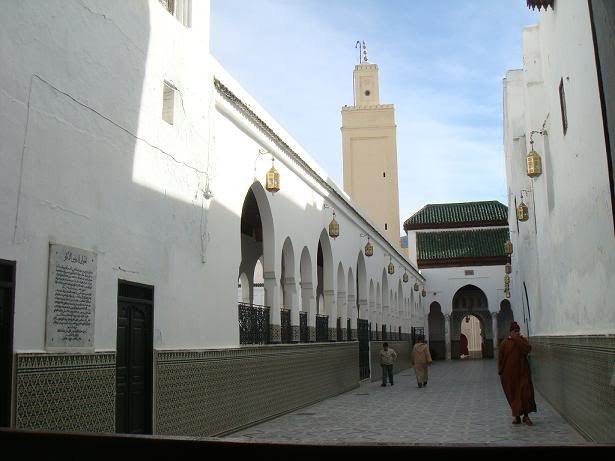 See the wooden plank across the 2 walls at the bottom of the picture? That's the so-called 'barrier'.

The boy then told me he would bring me to the best spot in Moulay Idriss to see the best panoramic view I can get. Seriously, I'm glad I had him to bring me around, if not I would not be able to find this spot which only the locals would know. There are too many narrow paths and stairways to walk and it's really confusing.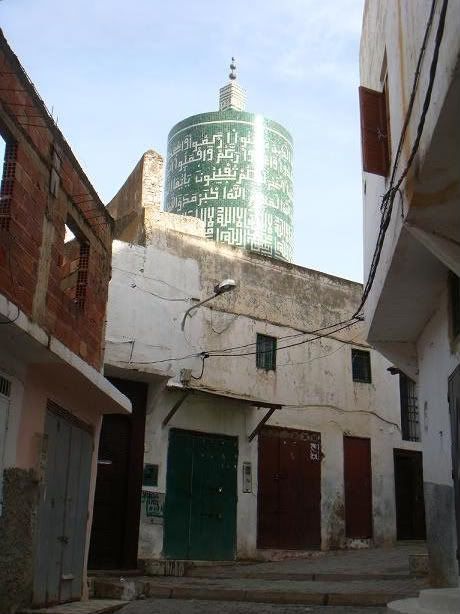 Along the way he showed me this interesting round minaret.

This is the only cylindrical minaret in Morocco. It was built in 1939 with the white tiles spelling out "There is no god but Allah" around the minaret. I thought it was the only round minaret in the world, but I did a check and found out that there are some others in places like Doha and Uzbekistan.

It was a pretty long walk and I'm sure it lasted more than 20 minutes, but it was well worth the walk. The weather was very cooling at 18 degrees so I didn't sweat. And finally, I have to admit, the best view of Moulay Idriss: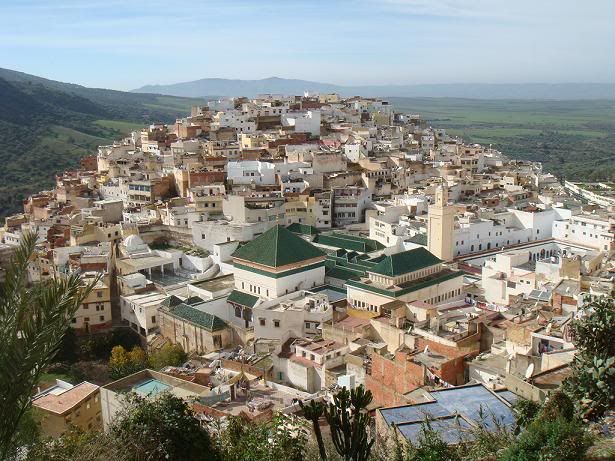 Everything. The mausoleum right in the centre (building with the green roof) and you can see neighbouring cities as well. Awesome.

I'm sure this walk made me so hungry, so the moment I reach back to the square, I thanked the boy, gave him the money and went in search of food. There are many cafes in the wide square of Place Mohammed VI, but I tell you the best and cheapest place has to be in the souq itself. There is a souq before the square, on the way back to the taxi stand. In the midst of the souq selling poultry, vegetables and fruits, there are two shops selling food. I wasn't biased with any, so I just chose the one at the corner of the souq.

Lunch is served!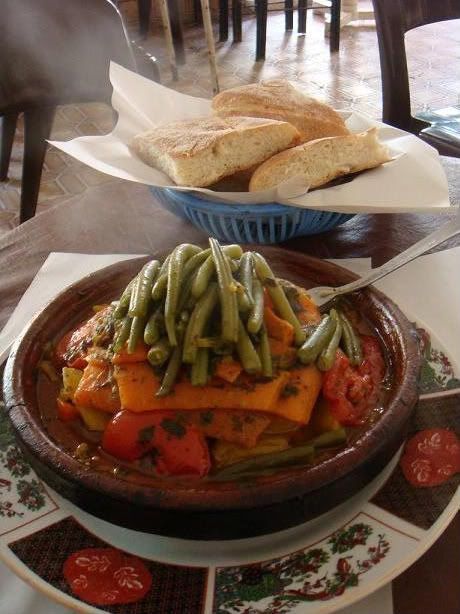 Tajine! This is the vegetarian tajine. Served with bread. Piping Hot.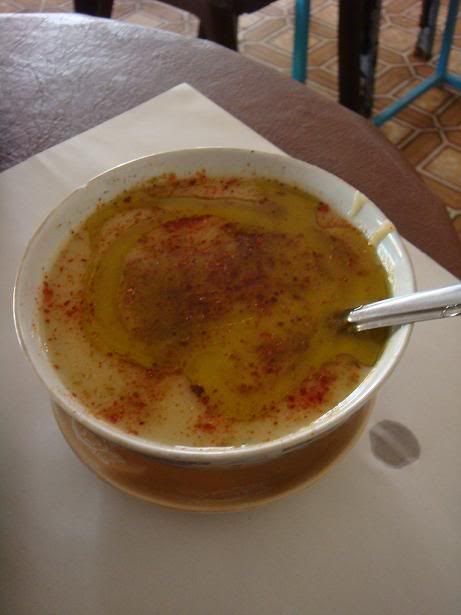 Chickpea soup again. I didn't know what soup they were serving and I was told they have soup.
This time round with lots of spices and olive oil.

Time to head to the next destination. This can be a little tricky here as you can try the same way to get there at the taxi stand. Find people to share the taxi or go alone. However, this time round it depends on the time you depart Moulay Idriss. I understand from the taxi driver there are certain times of the day where it will be fast to find people, and so happen I left at quite a late time so I had no choice but to go alone. Anyway, this place is only about 12 kilometres away from Moulay Idriss and it doesn't cost much to get there. Another alternative is you can just book a taxi to bring you to cover the 2 places together, at a higher price of course.

Destination 3. Volubilis.
(About 12 kilometres away, 10 Dirhams, less than 10 minutes taxi ride)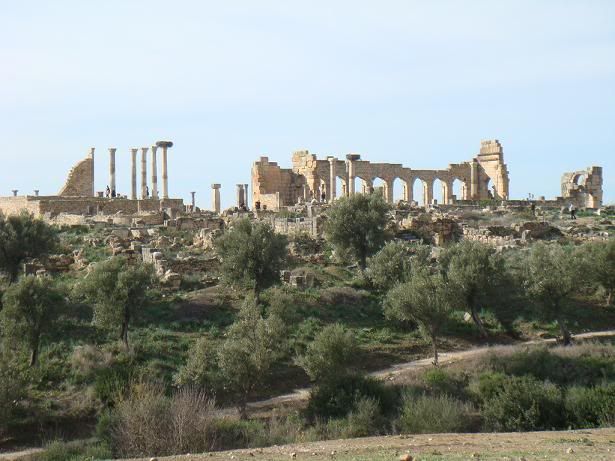 UNESCO site. Volubilis.

It's a site of the Roman ruins which sit on a fertile plain, covering 40 hectares of land, but only an approximate of 20 hectares has been excavated. Here you can see very impressive arches, columns, mosaics and houses which are pretty well maintained.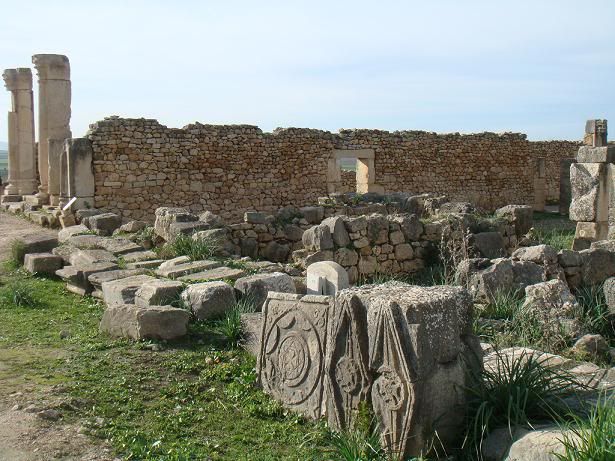 A section of Volubilis.

A place worth visiting, but won't require more than 2 hours, in fact I spent only an hour there. Coming back to Meknes is then the tricky part, cause there will only be 1-2 taxis outside the entrance and hence they will be asking for exorbitant price to bring you back to Meknes. Either you have to be very good in bargaining, or good acting skills, or wait for some other lone travellers to share the cost. If I had left the place like 5 minutes earlier, I would have asked the tour bus to give me a lift back to Meknes. The taxi driver asked for 120 Dirhams (~ 24 SGD) which I immediated bargained for 60 Dirhams. After a lot of disagreement, the driver gave in and finally drove me back to Meknes.

After reaching Meknes and taxi transfer, I am back outside Bab el-Mansour again. This time the medina is getting lively lots of activites are going on in the medina. This space outside the medina is known as the Place el-Hedim, where the tourist information office is also located.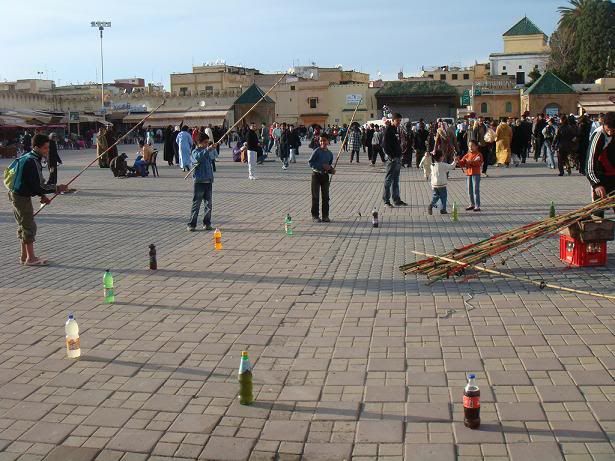 This is the same game I saw in Marrakech, the kids can just spend hours just to want to win a bottle of drink home.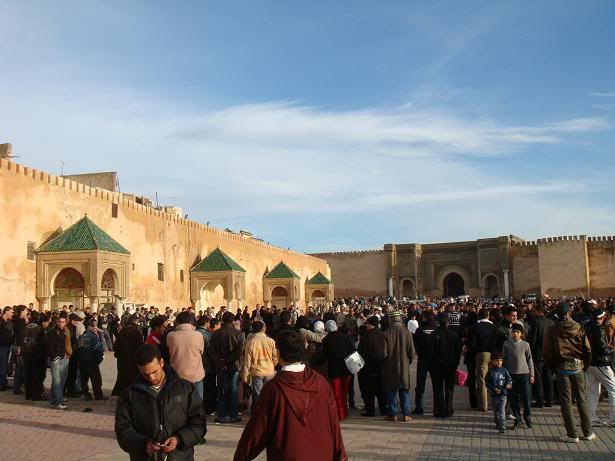 There are so many different crowds that I am at a loss at what to see...

I decided to find a few buskers where they have larger crowds, so I stopped at one and started enjoying. It was one of the snake performers again, and it happens to be my all time favourite performance.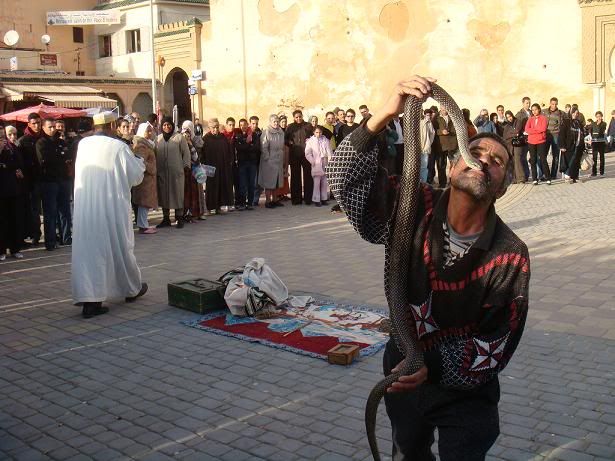 I remembered I had to pay to get this picture taken. After I finished taking the picture, the guy tried to put the snake on me and I gave out a scream and ran!

It's time I headed back to Riad Felloussia to pick up my backpack and met the new Riad owner to come bring me to their Riad. Happens this Riad right in the smack of the medina so it is even more convenient than Riad Felloussia.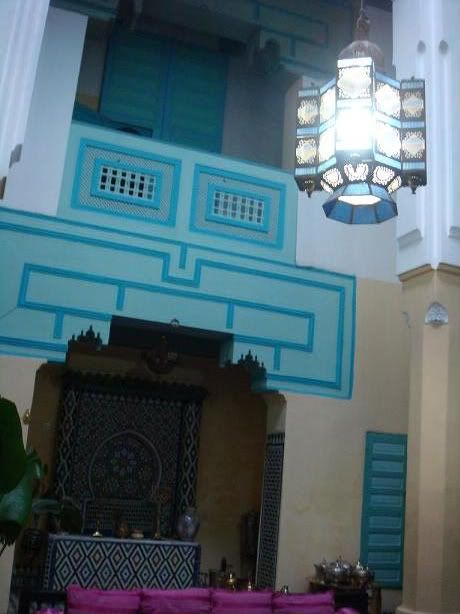 Riad Amazigh.

This is a pretty new Riad, opened by owner Fatima. She is a very nice lady who really makes you feel like home. This Riad has a very interesting colour combination of blue and pink, and they have rooms in the most unexpectable locations.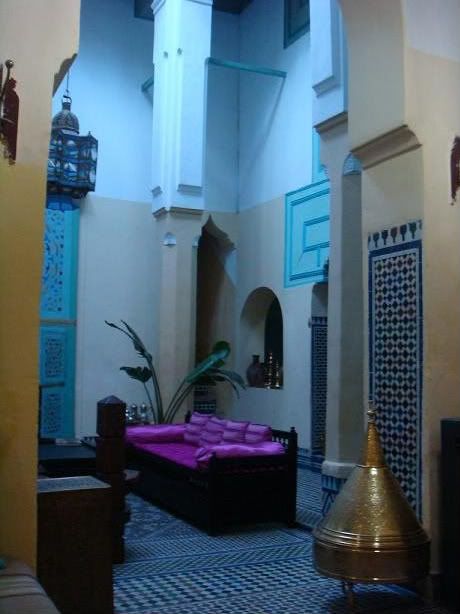 The Riad courtyard.

She gave me a very good price and I agreed. She got her assistant to bring me to my room and god, I am really impressed with where the room is! There is even a little puppy to keep me company!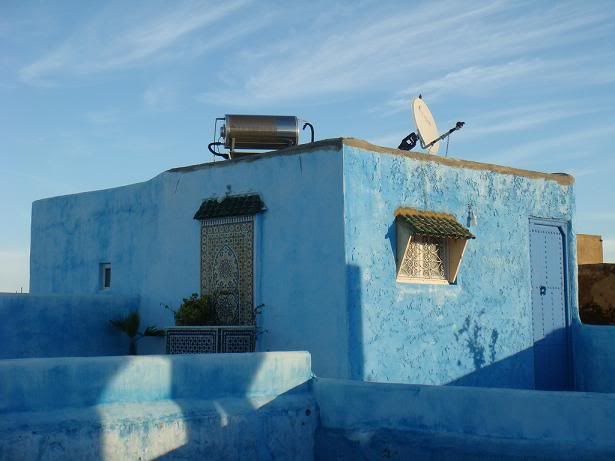 A room at the rooftop!

There are 2 rooms at the rooftop, one was for her son who came back for vacation from studies in France, and the 2nd one was specially left for me. Room was pretty simple and there was totally no need for airconditioning in the room living on the rooftop without much obstruction, I requested for a heater instead.



My simple bedroom with the heater beside the bed.

I spent some time enjoying the view in the rooftop terrace, the breeze and the view around Meknes. I waited to catch a view of sunset before I decided to head back to the medina again to look for food.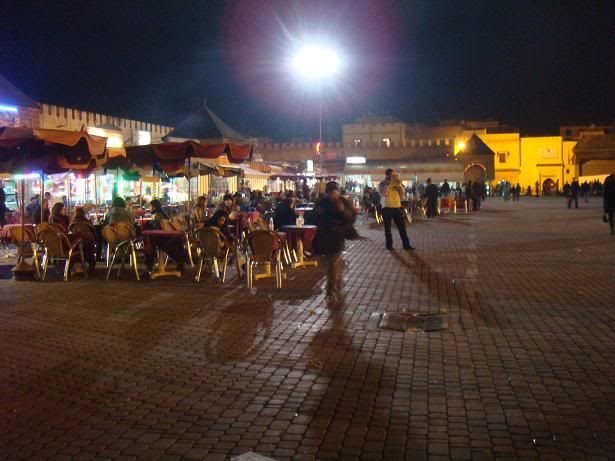 Al fresco dining by the medina.

At 2000hrs, most of the performances in the medina would have packed up and left, and this is when the restaurants and cafes by the medina starts to get packed with people dining. This is also the time when I also started in search of something which would get my attention. I walked towards a few cafes and looked at the menu and decided to sit down at one finally.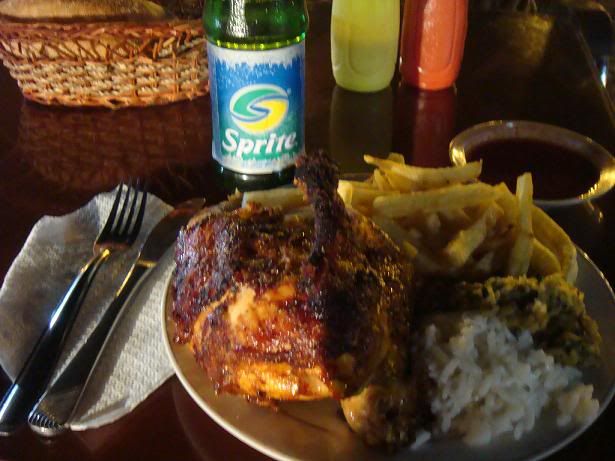 This doesn't look interesting...

Yea, it looks as simple as a quarter chicken meal, but the item on the plate that got my attention was RICE! Yes RICE! It's finally time I get to try something Asian again, but frankly speaking, the quarter chicken wasn't that bad, and this meal only costs me like 24 Dirhams (~ 4.80 SGD)

After dinner I walked around, and this time I saw something interesting: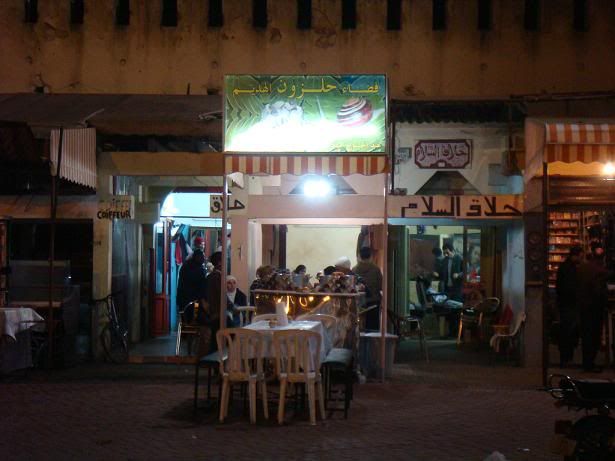 Snails.

I thought maybe it's nice to have some escargots as a side dish, but when I walked closer and the guy opened the lid of the pot I was shocked to see the tentacles still attached to the snails! I was a little grossed out but I wanted to try, but I decided to give it a miss in case it becomes a discomfort to my stomach and affect my travel plans. In the end I decided to visit the night market instead.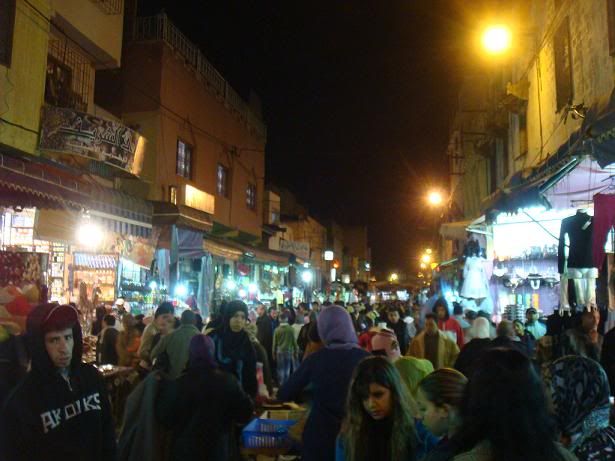 A very happening night market.

Seriously it's so packed, and there are so many stalls in the night market, on both sides of the road as well as in the middle of the road. It also seemed like an endless stretch of road and there seem to be no end to the night market. I walked an hour and gave up making a u-turn back to Place el-Hedim. It's starting to turn cold and I decided to head back to the riad.

I reached the riad at 2300hrs and I decided to take a shower before I sleep. To my horror when I was naked in the bathroom turning on the tap, there was no water! I checked with Fatima and she told me there was water rationing due to the heavy rain, the government was trying to clean the sea water and there will only be water available at 0800hrs the next morning. (If you can relate to the muddy sea water picture taken in Essaouira)



I can only go to bed and sleep like this I guess...