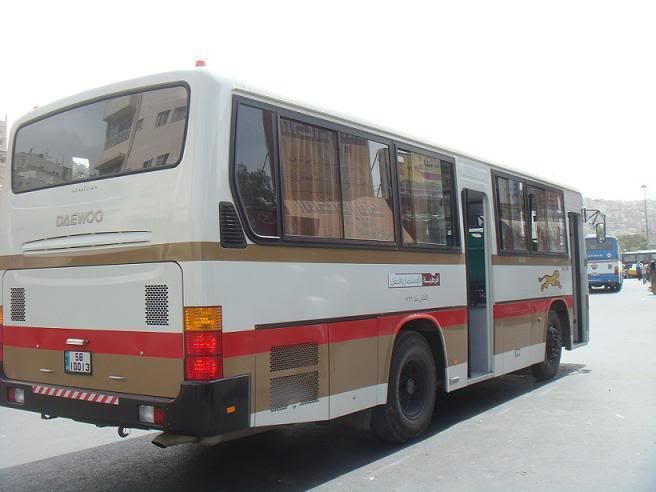 A typical intercity bus.
So it was another hour spent on bus before I reached back to Raghadan Bus station in Amman. Feeling a little thristy, I saw some shops selling drinks near the station and I walked towards the shop.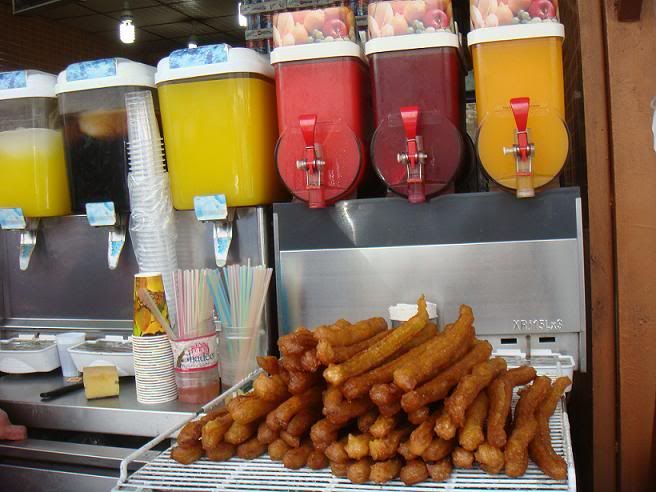 Was about to order the fruit flavoured ice blended drink when I saw something... Doughstick (You Tiao)?
Yes, it's the fried doughstick that we Asians love, but this is the sweetened version. It has been soaked in sugar syrup for very long that there was already a layer of sugar coated on the doughsticks. Very crunchy and sweet. Loved it.
I took a cab from the bus station, and this time not to be cheated again so I bargained the cab price before I boarded. As usual, he wanted to charge me 2JD (~4 SGD) but I refused and told them I took the same route in the morning for 1JD. The driver refused initially but I started walking away before he decided to reverse the taxi and agreed on 1JD. This time round I asked him to stop halfway between the bus station and the hotel so I could spend some time exploring the stretch along Hashemi Street.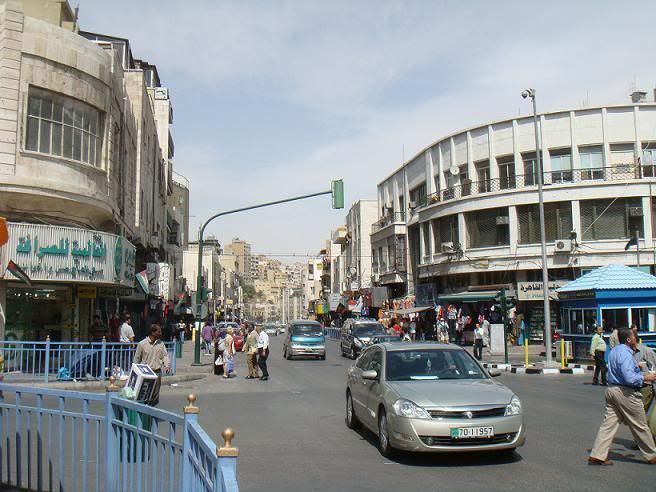 A not so busy Hashemi Street around 1400hrs.
I spent time slowly stopping by shop after shop, just to look at the things they are selling and any souvenirs that I could buy. Time passed by so quickly as the streets started to become more crowded as the locals knock off from work.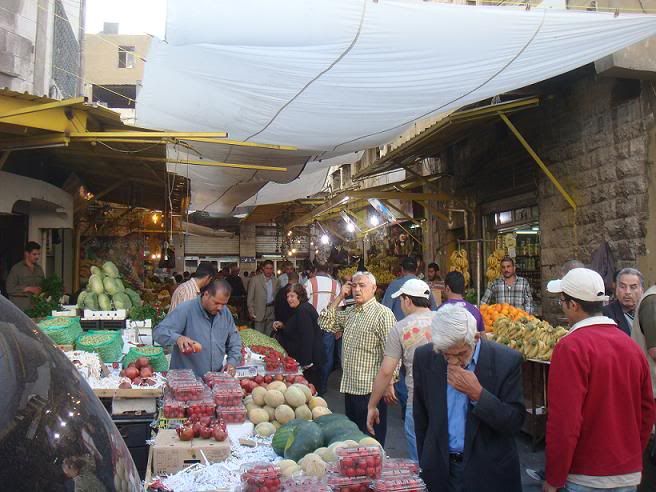 A Fruit and Vegetable Market along Hashemi Street. The locals getting their purchases after office hours.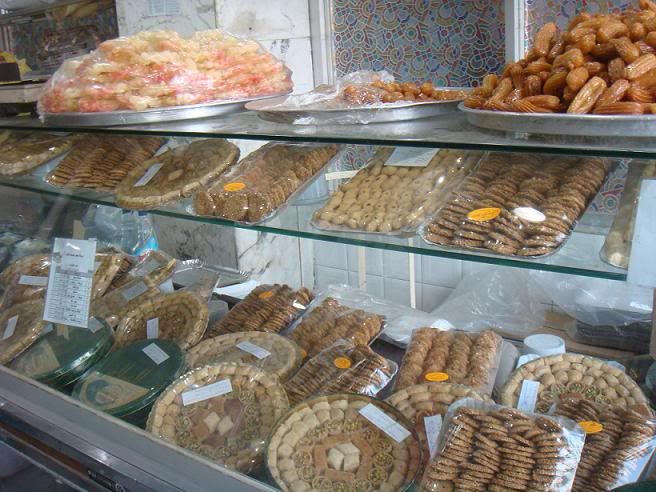 I also passed by a sweet and pastry shop and was wondering if it would make good souvenirs, which luckily I didn't buy cause similar pastries could be found in
Mustafa
!
It was about 1700hrs when I felt hungry, so I started to keep a lookout for anything which I could grab a quick bite. I saw this shop tucked in a corner along one of the side roads and when I walked closer I saw this: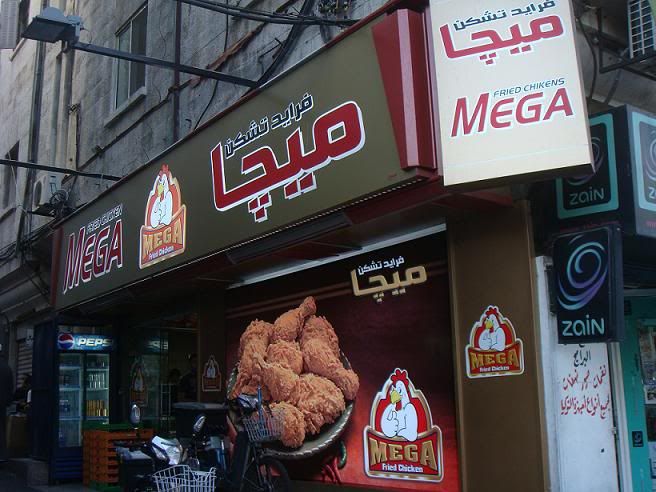 Mega Fried Chikens. (So funny the spelling, didn't realised it then until now.)
It was just a shopfront with only 3 seats, and it seemed pretty popular as the shop was packed with people queueing at the miserable counter. I decided to give it a try, but there was no space to have my dinner so I ordered a take away and brought it back to the hotel instead. Price wise was almost similar or more than a local KFC meal, if I remembered correctly it was somewhere between 3.50-4 JD. (~7-8 SGD)
Although the hotel was just a stone throw away, I quickened my pace so that I could enjoy the hot crispy chicken and not let the fries go soggy. So upon reaching the hotel, I headed straight to the lobby and opened up the meal. I didn't expect the serving to be quite a lot.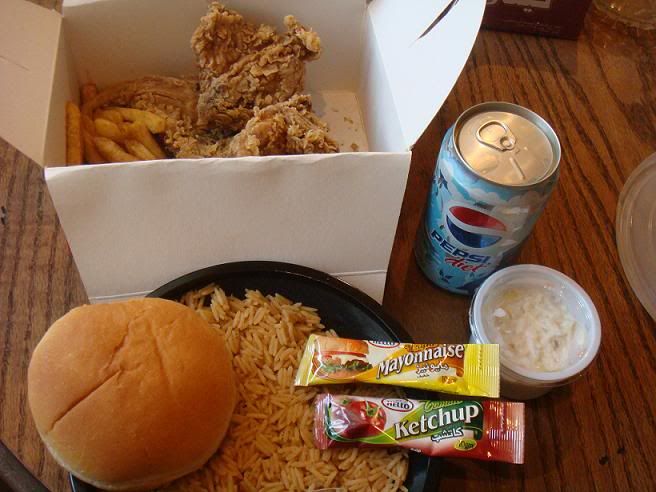 Think it was a 2 piece Jumbo set or something like that...
Verdict: Chicken was pretty good, had a little of the rice as it tasted hard, didn't finish the bun as it was too plain and dry, threw away the coleslaw as it tasted sour (to the extent I felt it was those fermented taste). Finished all the fries, which remained warm throughout the meal.
I cleared up the food and headed back to the room quickly, dropped some of the unnecessary items and I was ready to head out again. This time round, I was looking forward to something which I finally got to try, and I called up the place in the morning before I left Madaba to make sure I won't miss out this opportunity.
I remembered Beatriz telling me she would visit this cafe every night, just to order a drink and enjoy the ambience and the free wifi. I found out from Lonely Planet and also from the hotel that this cafe is one of the most popular cafes in Amman where the young and hip Jordanians like to chill out. I referred to the map in the guide book and started venturing my way to the cafe.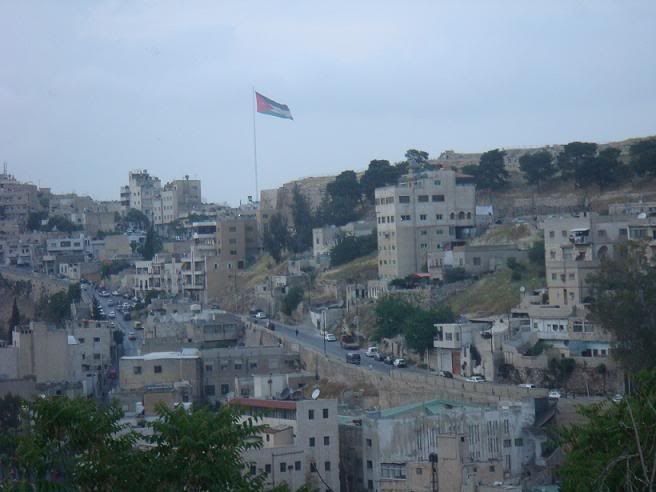 Another one of the most prominent structure in Amman, the Raghadan flagpole. Standing at 126 metres which used to be the tallest flagpole in the world, has now become the third tallest flagpole in the world.
I started walking from the back alley of the hotel, walking along some of the steep roads and stairs before I reached Othman bin Affan Street.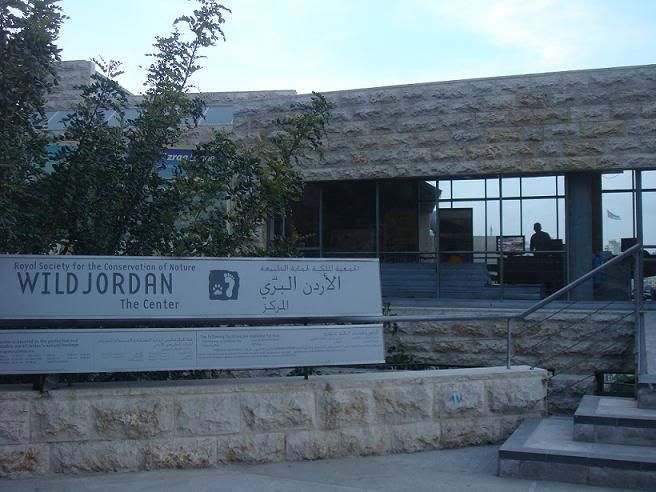 Wild Jordan Centre
.
This place has all the information of Jordan's nature reserves and accept bookings for activities and accommodation in any of the nature reserves. This place is run by the Royal Society for the Conservation of Nature, and there is a small crafts shop and an organic cafe to enjoy a healthy meal there.
From the Wild Jordan centre, right in front of the entrance follow the stairs up leads you to Abu Bakr as-Siddiq Street, also known as the Rainbow Street. Rainbow street is located near the 1st Circle in Jabal Amman and is known as an interesting area to explore, named after the old Rainbow cinema which is now not in use.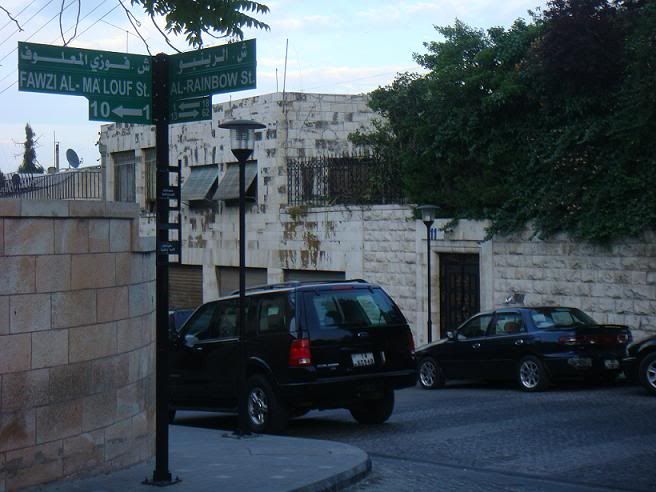 Rainbow Street. I was disappointed as it wasn't what I expected from reading the guidebooks.
Rainbow Street was appointed by the Amman Municipality to be transformed into a heritage attraction point, and according to the books it is supposed to be an area of "artistic and cultural renaissance" in this vibrant street, but was the exact opposite when I stood along Rainbow street. Don't be disappointed too early because the hustle actually happens in the little streets tucked away from Rainbow Street, the high end restaurants, cultural centres and clubs. Take time to explore the alleys because that is where all the life are.
And before I knew it, something appeared right in front of my eyes: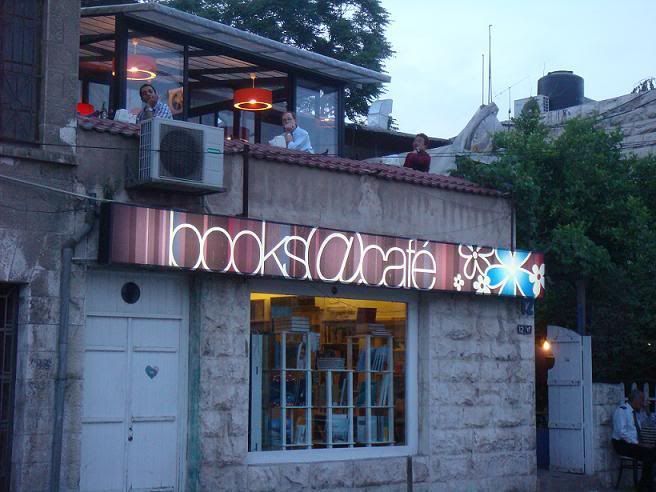 Books@Cafe
, the interesting place Beatriz told me about.
The bookstore on the ground floor.
There is a pretty wide collection of books in such a small store, Arabic and English books. This place is well known for tourists to pick up travel guides about Jordan as well as the expats picking up books for a good read. There are all kinds of books catering to the locals and the foreigners, the young and the old.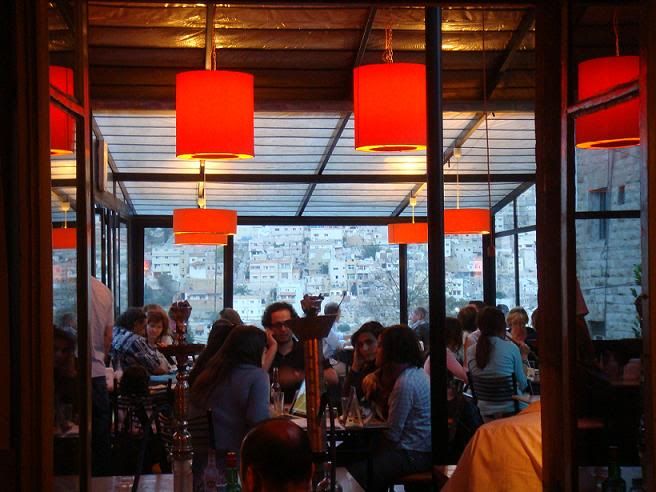 A chic restaurant on the top floor.
For good Western food, this is the recommended place to visit. It's a combination of a restaurant, bar and cafe and be expected to be served with delicious Italian pizzas and pastas from Italian chefs. A cool place to chill out, but avoid if you cannot tolerate shishas. People here sit, chill, enjoy alcohol and food and have shishas the whole night long.
I didn't stay for long, as I was waiting for the time to come.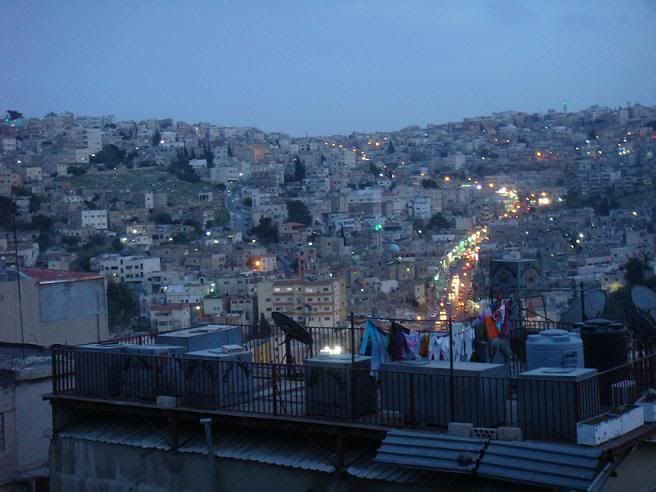 Evening view of Amman, from Books@Cafe.
I thought I should hurry, as I was expecting an appointment at 1930hrs. Though the place was not far, I needed some time to navigate around under the moonlight, but after a few minutes walk, I saw a beautiful and brightly lit house in a dark alley. I thought that might be the place, and when I walked towards it: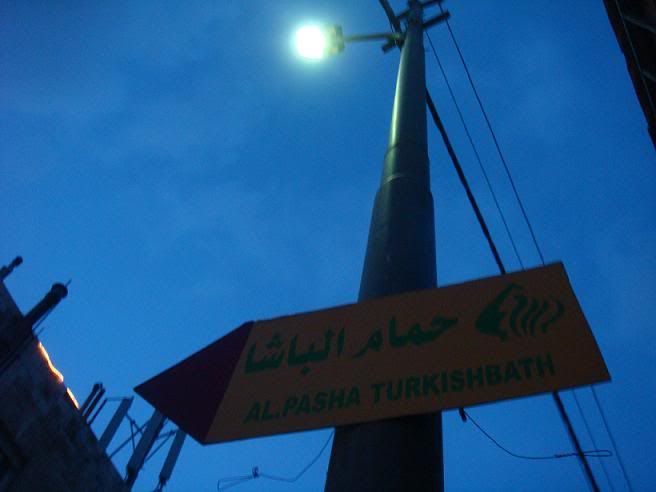 There it is! The
Al-Pasha Turkish Bath
.
This was something I have been waiting for a long time. I been wanting to try it since the Moroccan days but didn't have a chance to and this time I made my trip down to the most famous Turkish bath in Amman. If you were to request for a Turkish Bath experience, everyone in Amman will recommend the Al-Pasha.
As many may know, a visit to a Turkish Bath (or known as Hammam) is the must try Middle East experience for all who have been to any of the Middle Eastern countries. Here in Amman, Al-Pasha is the most traditional hammam and the perfect pampering treatment one can get. One word of advise, this place opens from 0900hrs to 0200hrs and the last check-in is midnight, however reservations is highly recommended and especially ladies who are keen, please check with the place the operating hours for women. If I remember correctly, they only attend to women between 1400hrs to 1900hrs.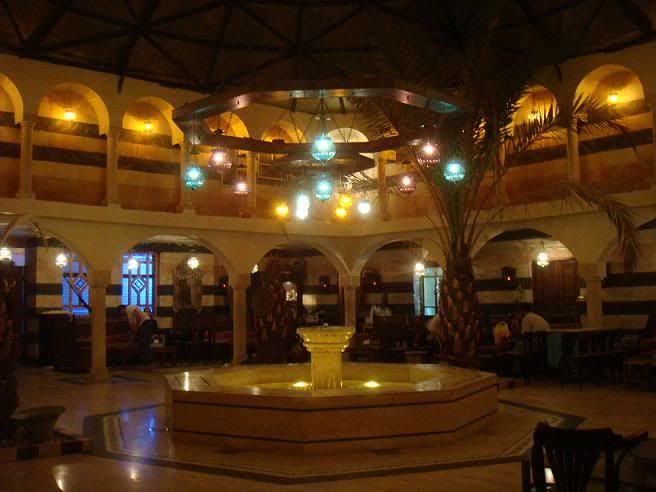 The grand waiting hall. That's the last picture I could take before I took off all my clothes into the restricted area.
At time of visiting, the full service treatment costs 25JD (~50 SGD) and I would say it is a definite worth for a close to 2 hours of pampering. First you remove your clothes and get wrapped in a towel, and you will be ushered into a steam room. You choose a place you like to sit and you sweat it all out, different locations in the steam room have varying temperatures, I tried one of the chambers and god, I almost felt like melting inside there while some Arabs totally enjoyed the heat in there.
The staff will serve ice cold karkade (sweetened hibiscus tea slurpee style) in the steam room and note, the steam may condense and you might have additional drops of water from the ceiling. After about 20 minutes, the staff would then direct you to enjoy a soak in the Jacuzzi. I was so happy when I saw the Jacuzzi and I almost felt like jumping in, to realise there was a digital thermometer by the side showing 75 Degree Celcius! Again the Arabs were so happy soaking in the hot water and chatting with each other while for me, I tried to put my sole in but I retracted my foot the moment the hot water touched my toe. I wonder how can the Arabs stand the heat. Maybe with their hairy bodies? I did had the chance to chat with some of the Arabs, to realise they were from Saudi Arabia. They found it interesting to chat with Asians and started telling me about interesting places in Saudi and told me to visit the place if I could. Now that's when the fun began.
The bathhouse attendant came, started calling one by one into the bath chambers. That was when everyone walked in naked, laid on this very smooth and slippery marble platform, and the attendant splashed water and soap on the body. Next they will start using a scrub, as horrifying as the green rough sponge or the wire mesh for washing pots to scrub you all over! They literally scour every area of your body until the dead skin peels off, this is when you need to bear with a little pain and enjoy the process. It is well worth it because after 10 minutes, you feel like you have baby skin again!
After all the thorough scrubbing and washing, the attendant led me to another chamber which then I laid on another marble slab and the attendant started giving a massage. The solution used was like a mixture of soup and olive oil, and man the massage was nothing I have ever tried for all those Chinese or Thai massage, totally out of the world. The massage was so good, a 30 minute session felt like 5 minutes I didn't want to get up from the marble slab. It all felt so good to be 'processed' and the final thing to do was to go for a good shower which marked the end of the Turkish Bath experience.
I was really a great experience and I had a wonderful sleep. Now I'm all charged to bring you more interesting places of Jordan in the next entry.
Was a pretty short day trip to Madaba as I wanted to take an easy day going around Jordan in public transport. Decided to head back to Amman and spend the rest of the afternoon there as I had something I wanted to do so badly, and also to visit some of the places which Beatriz had recommended.
Current Location:

Singapore, Singapore

Current Mood:

full

Current Music:

Roxette - It Must Have Been Love