And here we were at the next destination. This place is definitely worth mentioning because it is also in one of the top three important sights in Yangon. I would say it is really a close fight in top two and maybe the one which was first is because of its sheer scale.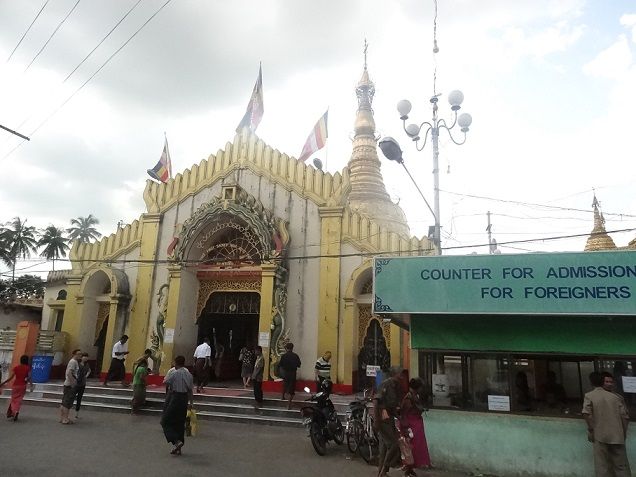 Welcome to the Botataung Pagoda.

Yea you see a sign which says counter for foreigner because the locals do not have to pay money to enter the premises while foreigners have to pay about 3 USD (~4.15 SGD) for entry and photography inside. So what's so special about this place that makes it the second must-visit attraction in Yangon?

Let's take a look inside bit by bit.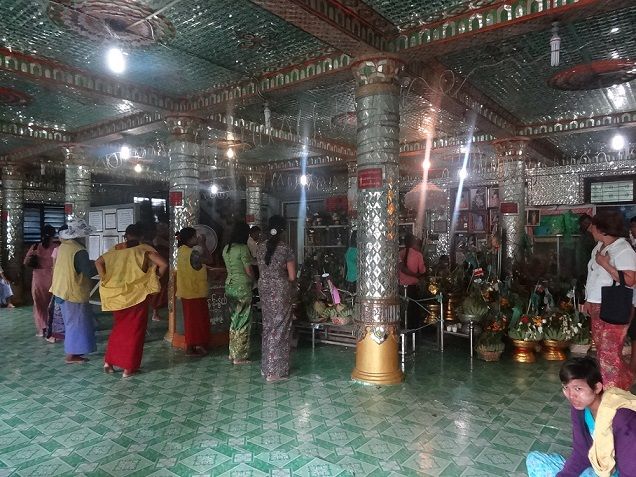 Wow look at the bling bling... That's not all yet.

Let's first start with this stupa, it is a pretty unique stupa because as you have seen, most if not all stupas are solid and built from the ground, but this special stupa is actually hollow inside. It is hollow and it allows people to walk inside the stupa. I will bring you on the journey in a very short while, but first a little more information to reveal about the sacredness of this place. The name of this place Botatuang, "Bo" means leader while "Tatuang" means 1000, when put together means 1000 leaders, which more than 2000 years ago these leaders went to India to bring something important back to Myanmar. What you see now is the remake of the original stupa which was bombed during an air raid in 1943.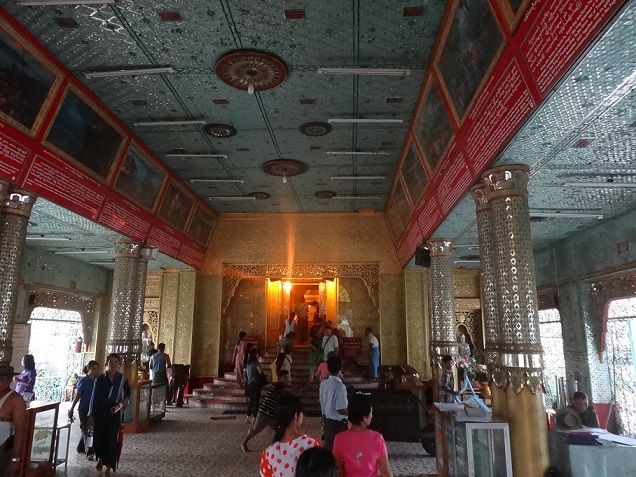 The entrance to the stupa.

So what is it like in the stupa? It is like a maze inside where you walk in narrow lanes, but it is a never seen before maze where you will see the walls all lined with gold. Yes GOLD!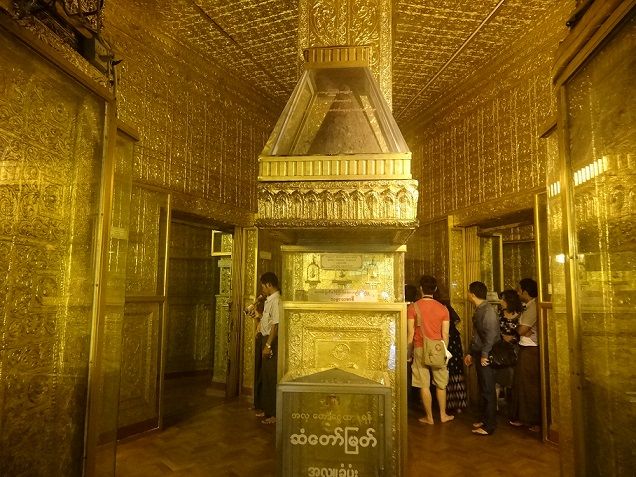 No joke, better put on your sunglasses.

Well, you are about to see inside the stupa what is so precious that the 1000 leaders brought back from India.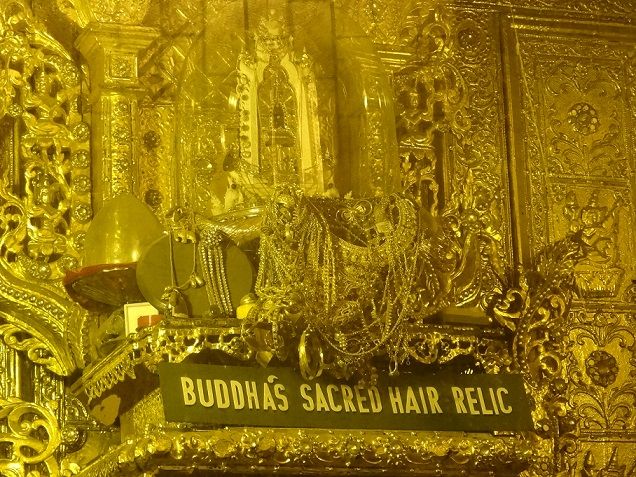 Buddha's hair.

It was supposed to be a sacred moment but I felt puzzled. I have heard and seen before tooth relic but now hair? Wasn't Buddha supposed to be bald? And the guidebook said there used to be eight strands of hair before they were distributed and now only left two inside here. It was kinda far so I had to tip toe and reach higher and wait till the crowds leave before I could take another closeup picture: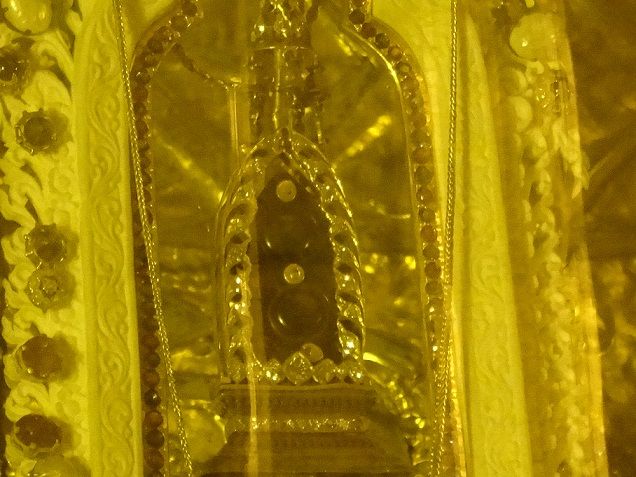 Can you see? Can you see?

After visiting the interior of the stupa, we walked around and the premise is rather big with lots to see.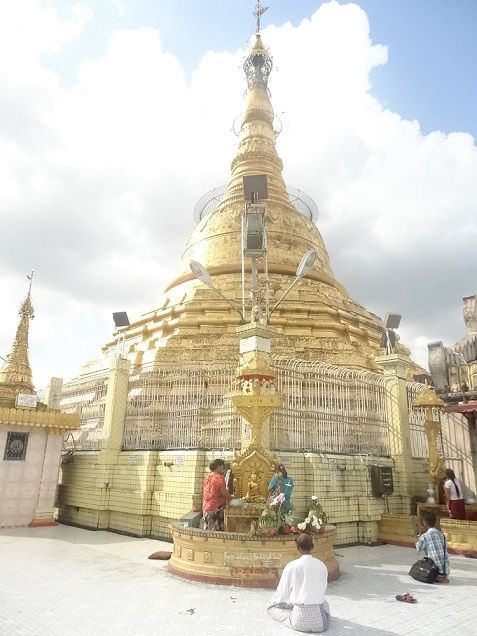 Exterior of the stupa.

This golden stupa spire rises to 131 feet above ground and here I could see people sitting around the stupa meditating and praying, while there are also a few small statues of Buddhas which are located around the stupa and some of the worshippers were bathing the Buddha.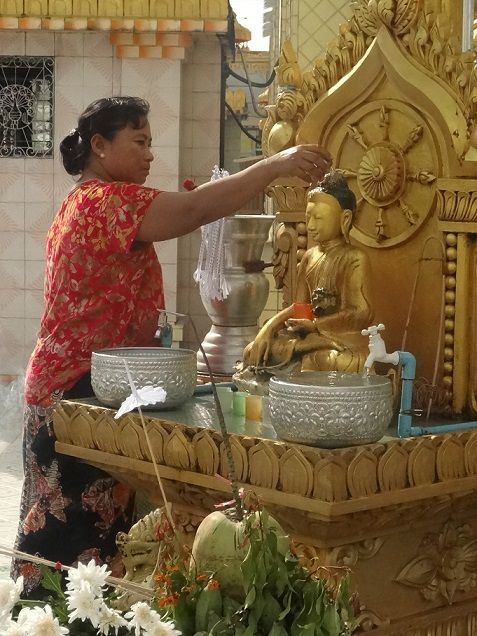 Bathing the Buddha.

There is significance behind this act, and it means that the person bathing the Buddha is seeking for a purification of his bad deeds to be washed away. I see this act as pretty common in Buddhist countries, while usually this event is only carried out during major Buddhist festivals like Vesak Day.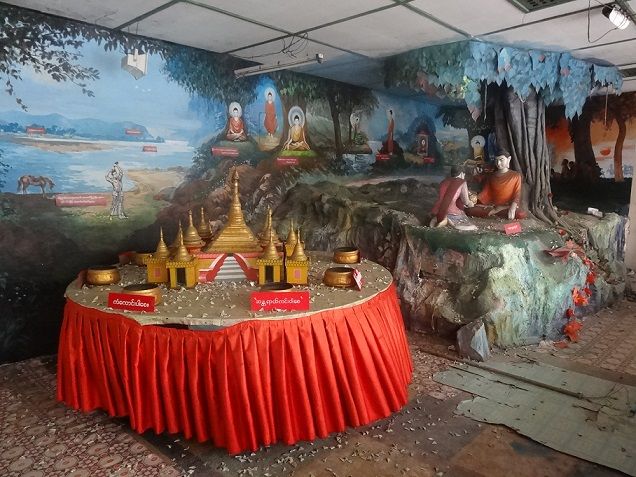 Some exhibits about Buddhism and the pagoda.

You can see bits of like paper littered on the exhibits and the ground. They are actually money folded into small triangles and thrown at the exhibits which I do not know served what purpose, but could just mean donations from the worshippers.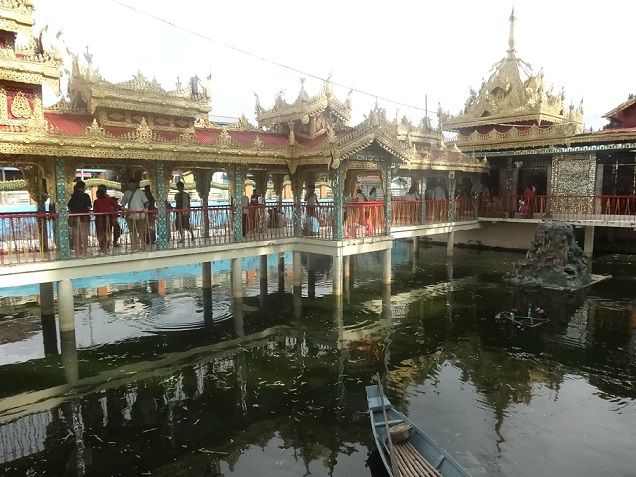 A big picturesque area to wander about.

There is a walkway above a large pond which has hundreds of terrapin turtles and you see the local feeding them with food. We walked to another corner of the pagoda and saw another interesting looking lime green coloured hexagonal hut and decided to check it out.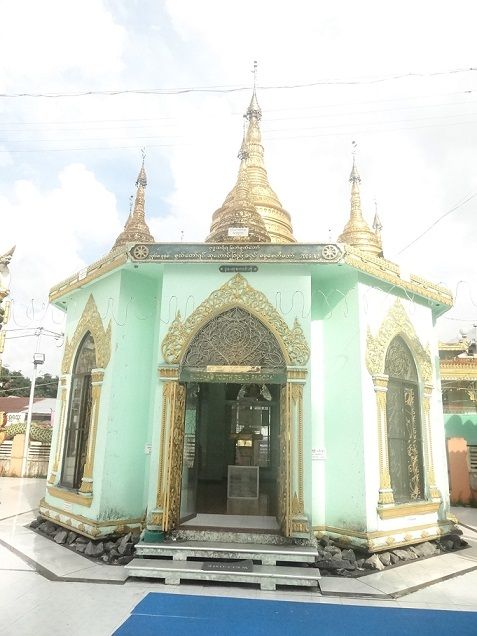 There were also quite a number of people coming out from this hut.

We walked in and saw another relic of the Buddha.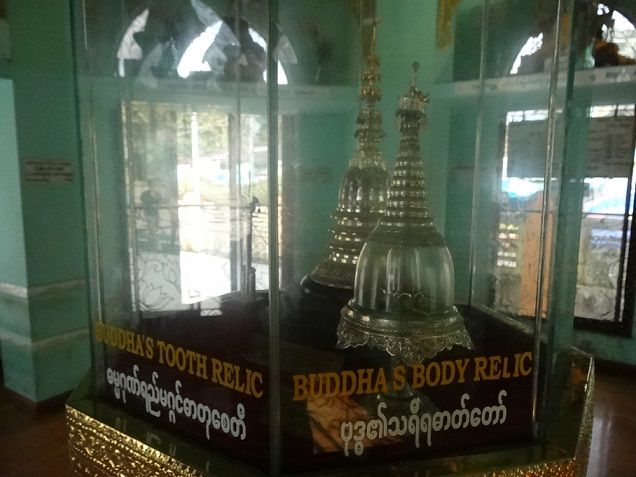 Two relics.

One was pretty obvious, which was labelled as the tooth, and the other is the "body", so I suppose it could be a fragment of the bone?

We have almost seen every corner of the pagoda so we thought it was time to leave. So from the pagoda it was a very short walk of two minutes just to get to the Botahtaung Jetty.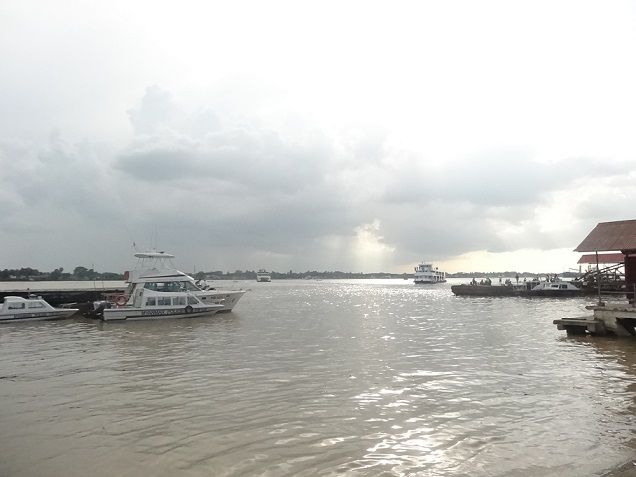 Seeing the boats crossing the Yangon River.

We headed back towards the direction of the Strand Yangon, because the food earlier was not enough to keep me full and I suggested looking for some of the recommended food stalls from the travel guide. What was strange was that we walked back the exact route we took earlier but this time we saw some buildings which we didn't notice previously.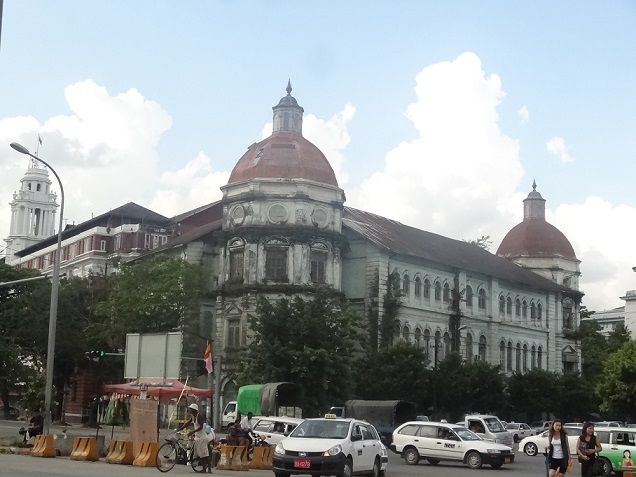 The Yangon Division Court.

And we made a turn into Bank Street and saw the Customs House.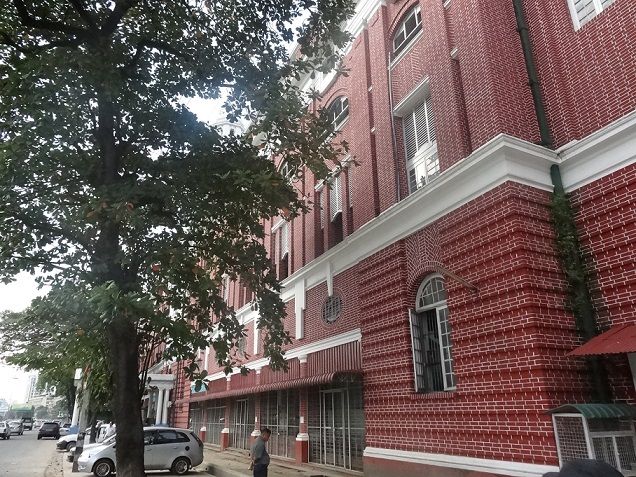 Customs House.

We were so hungry by the time we got back to the starting point which was the Sule Paya Pagoda. You be surprised to know that Yangon has got quite a popular cafe culture, where the locals love to have good drinks and snacks and a place where they can catch up with friends. However, don't imagine this to be an up-class air-conditioned cafe but a simple roadside cafe where you sit on plastic stools and drink.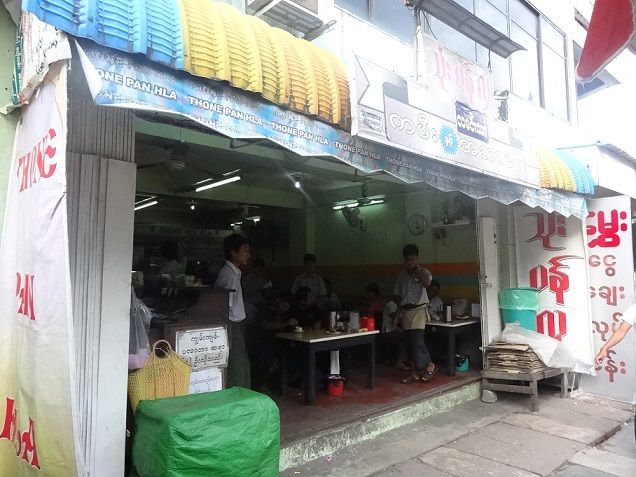 Thone Pan Hla.

This is one of the recommended cafes which is opposite Sule Paya on the 32nd Street, it is popular among the locals for the cheap and good food and drinks, and the tourists also visit this place because it is the only cafe which has an English menu which is loosely translated from Burmese. This place is famous for its teas and they do have teas served in varying degrees of sweetness, and yes the people here love condensed milk so you can imagine how sweet it will be.

My friends had tea and they commented it was too sweet for their liking, while I sat there without ordering anything because I was more interested with the next shop we would be visiting: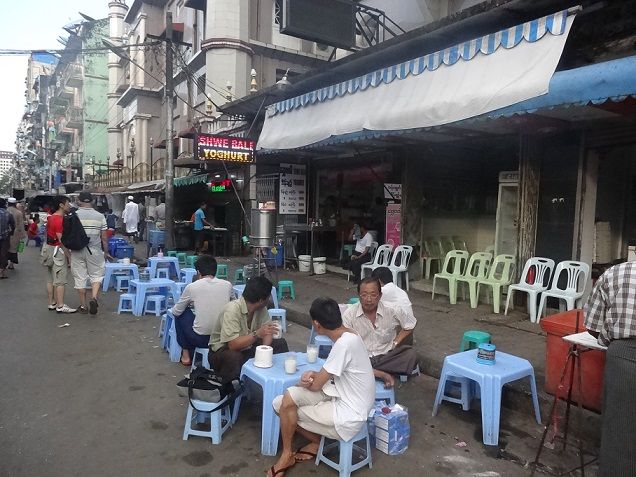 Shwe Balee.

Just a street away from Thone Pan Hla, this establishment is known to serve the best lassi in Yangon. I would think it is quite strange to find Indian yoghurt drink here in Yangon but since it was raved I thought I should give it a try too. I ordered which which costs 1000 Kyats (~ 0.70USD/1 SGD) and it was really good! Again my friends decided not to try because they didn't find it clean enough. It was so smooth and different from the lassi that I have drank before and I liked it a lot.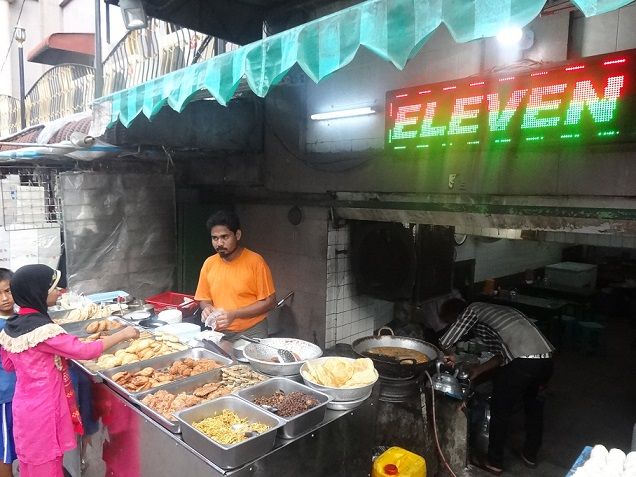 Oooo, fried stuff again...

This stall next to the lassi shop sells fried food which also has a long queue of customers, I decided to try another stall from a peddler selling on the streets instead.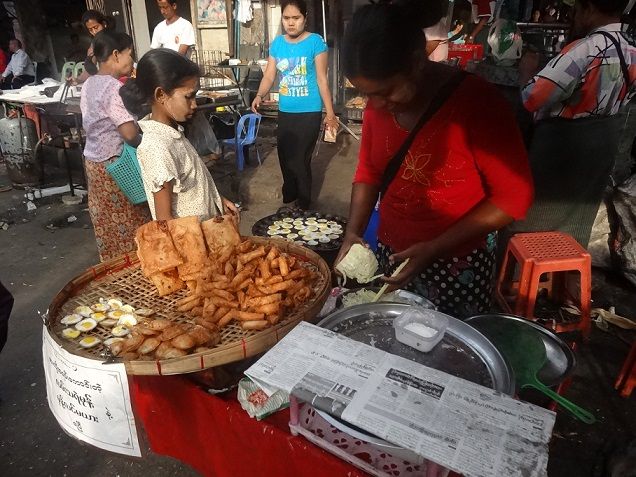 Yum, finger licking good.

Okay, its quite late in the afternoon already and we have to head to the next destination before it gets too dark!